Our Silk Cord Necklaces In A Nutshell
Okay here's the scoop...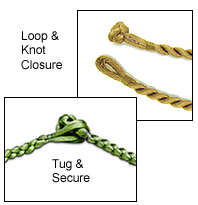 We are located in the United States and we've been selling silk cords for jewelry since the 1990's. After extensive testing of different thread blends, twists, braids and closures we have perfected our silk cord necklaces and have since been selling them worldwide with an emphasis in the jewelry trade. Fine Jewelry stores love our silk rope necklace and now so will you!! We use a very specific blend of high quality silk, cotton and polyester threads and an intense dying process to produce many brilliant colors as well as the highly desired black cord necklaces. This creates very soft (cotton), durable (silk) and lustrous (polyester rope necklaces that are extremely pliable (not stiff) and gentle on the skin. Most other silk cord necklace manufacturers generally either sell silk only silk cords which look dull and have a natural tendency to fray or nylon only nylon cords which is very stiff and can be itchy.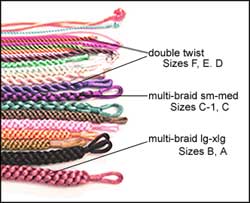 Myst Cord silk cords have a loop and knot closure (see silk necklace closure sample to the right) and after many months of testing we've found it to be by far the safest closure for these rope necklaces. Just slip the knot through the loop make sure you give it a good tug to make sure it's secure and you're good to go. We have customers that put $20,000.00 pendants on our silk cords and feel perfectly comfortable and secure that their pendant is not going anywhere. People ask us why don't you have a clasp on the end of your silk cord necklaces? Wouldn't it be safer than a loop and a knot? Absolutely NOT! The silk cord necklace ends are glued into the clasp and gives the impression that it is more secure but it is not. Over time the glue becomes compromised with the oils of your skin and eventually the clasp becomes loose and eventually breaks or falls off. So no clasp cords a.k.a loop and knot cords are the safest way to go!



Our silk cords come in many different widths, lengths and twists. Our A and B silk cords are a twisted braid cord necklace with a cinched center so your pendants or enhancers fall right into place. Our C and C-1 cords are done in a slightly looser twisted braid that has high luster and finally our D, E, F silk cords are twisted cord necklaces. Our silk cords also come in many different colors and we keep adding new colors. Some of our most popular silk cords are black, silver, gold, brown, navy, red, etc.
Myst Cord silk cord necklaces enhance your jewelry wardrobe whether it's for that $20,000.00 piece or that fun glass pendant you got at the art fair. Color coordinate to your wardrobe to change it up or try it as an alternative necklace for pendants. These silk cords are so nice they can be worn alone or grouped together for a fun look. The quality and feel of our silk cord necklace is so superior to other cord necklaces on the market today, that we have a very high demand for it and are constantly producing more to keep up with demand. Since not all of our silk cord necklaces are online and if the silk necklace you would like is not available at the time you are on the site please fill out our Contact Form or call us at 844-409-6574 and we will do our best to fill your order.